An island to discover
Experiences Can Ribera
Muro, Mallorca
Can Ribera by Zafiro, has one of the most central and authentic locations in Mallorca and is much more than just a wonderful boutique hotel. It is also a great base for discovering our stunning little island, enjoying a romantic weekend, sampling delicious Mallorcan cuisine and other local traditions, or taking in the wide range of leisure activities, cultural attractions and beautiful scenery.
Enjoy a luxurious holiday full of experiences in our rural boutique hotel and discover up close all the secret corners of Mallorca, creating memories that will last forever.
Allow us to present you Mallorca, a unique place on earth.
Wineries
With almost 70 local wineries, Mallorcan wine has become a growing attraction for wine experts, wine lovers and tourists in general. This has led many island wineries to make the most of their growth and success by opening their doors for wine tastings and guided tours.
Some of the most important wine-producing areas can be found on the Binissalem wine trail, including some of the towns in the heart of the island and located just 15 minutes from Can Ribera: Binissalem, Sencelles, Santa Maria del Camí, Santa Eugènia and Consell. Taste the unbeatable wines made by wineries such as Jose Luís Ferrer, Bodega Biniagual, Bodega Ribas, Macià Batle and Tianna Negre, among others. And don't forget the wineries in Santa Margalida such as Vins Galmés y Ribot, Miquel Oliver and Bodegas Butxet.

Some of the wineries are currently producing some of the best wines in Spain. Having started out as family businesses, they have now made Mallorcan wine another international representative of Mallorcan culture and cuisine. So one of the things you really must do during your visit is take a tour of the incredible wineries in the island interior. Raise a glass to Mallorca!
Golf
Mallorca enjoys more than 300 days of sunshine every year, a spectacular Mediterranean climate and mild temperatures practically all winter. This has made it the ideal destination for golf and a magnet for golfers from all over the world.
The island has more than 20 golf courses, including several of grand prestige and international fame. Fantastic golf courses in privileged natural environments with beautiful scenery, incredible views and a great choice of bars, restaurants and leisure activities for when you're not on the golf course.

Just a few kilometres from our boutique hotel is Golf Pollensa, a medium-difficulty 9-hole course with wonderful views of the Serra de Tramuntana mountains. Only 20 minutes away by car, you will find one of the most famous courses on the island, the 18-hole Golf Alcanada, with a privileged seafront location and one of the best views of the Mediterranean.

A round of golf in Mallorca is a must during your holidays and we can help you enjoy this fantastic sport to the full.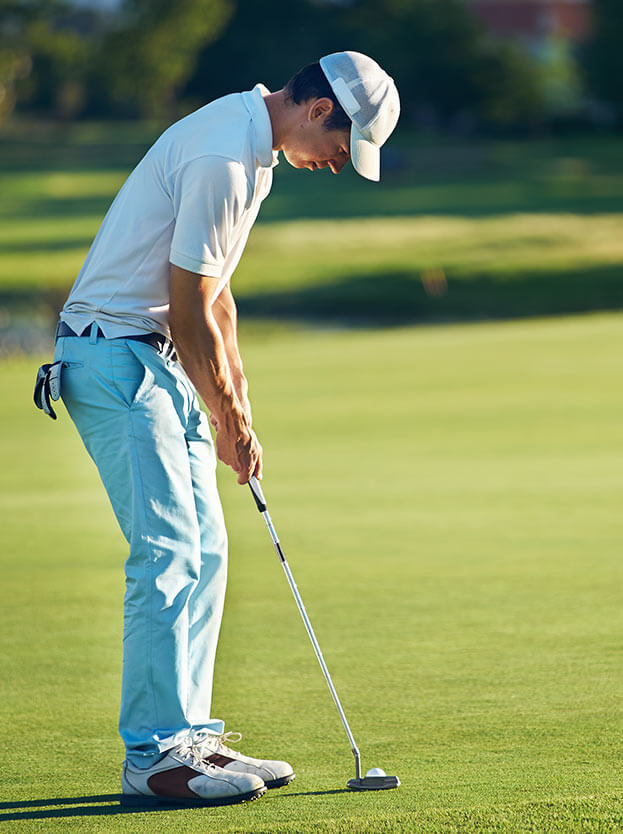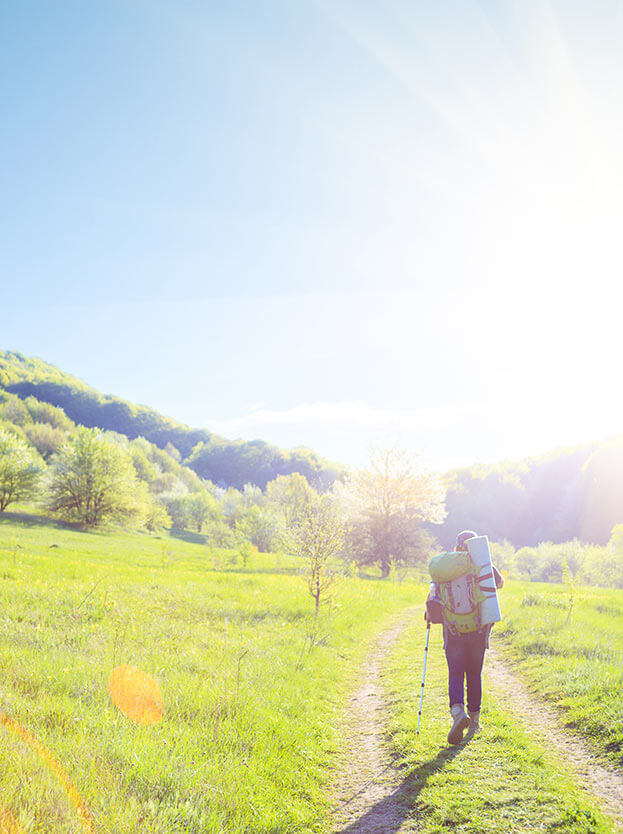 Hiking
An ideal way to get to know Mallorca, its natural environment and beautiful scenery is by hiking or trekking on the island. A large number of hikers visit our island attracted by the fantastic choice of different kinds of hikes. From the Serra de Tramuntana mountains, a UNESCO world heritage site, to the Llevant Natural Park, there are thousands of trails that criss-cross their way all over the island. Discover incredible places such as s'Albufera and its beautiful scenery and native flora and fauna.
From Can Ribera you get great views and proximity to the incredible Serra de Tramuntana mountains which cover the entire north of the island. Mountains such as Puig Major, Tomir, Galatzó or Massanella allow you to discover spectacular locations and cliffs along routes with different degrees of difficulty.

The most recommended route for experts or amateurs alike is the GR 221 - Dry Stone Wall Route (Ruta De La Pedra En Sec), a network of trails crossing the mountain range from west to north over a distance of around 110km.

The island also offers thousands of hikes that can end with a refreshing dip in the water of one of the island's amazing coves and beaches. The route from Torrent de Pareis to Sa Calobra or from Port de Pollensa to Cala Boquer or from Sant Elm to La Trapa, are just some of the ones we would recommend if you want to see Mallorca from a different perspective.
Sea
The Balearic Islands are known for their world-famous beaches and coves, turquoise waters and bright sunshine; an idyllic image that you have to see for yourself at least once in your lifetime.
Mallorca has almost 550 kilometres of coast and is one of the most attractive and important islands in the Mediterranean, with locations of incalculable beauty, beaches with fine white sand, rocky cliffs, pine and palm trees and forests, in addition to crystal-clear waters and a wide range of water sports such as windsurfing, diving, surfing or sailing.

Stop the clock and enjoy a day sailing around the island and discovering the beautiful northern coast of Mallorca. One of the best sailing routes near our boutique hotel is from Puerto de Pollença or the famous international marina in Alcudia to an area known as Es Caló, very near Colonia de Sant Pere.

We invite you to drop anchor here in the Mediterranean and end your day watching the sunset over Formentor and one of the most beautiful viewpoints in all of Spain: Es Colomer.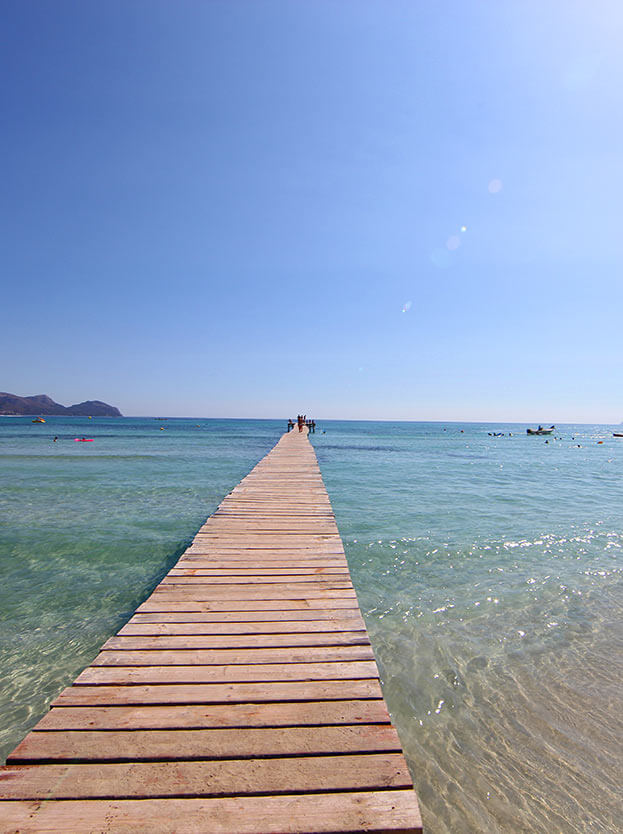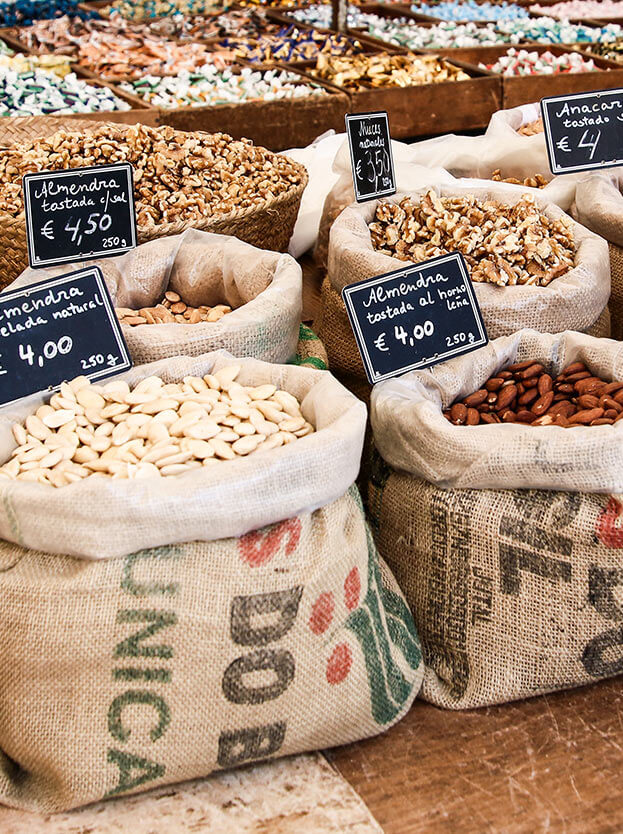 Markets
Mallorcan markets are full of local traditions and typical products and are also an excellent way to get to know the island and local life.
They are an excellent place to buy fresh, local products such as sobrasada, cheese and typical sausages. The markets are also full of the hustle and bustle of local life, perfect for visitors who would like to find out more about the roots of this island and the local lifestyle, getting closer to the authentic atmosphere of island markets and the Mallorcan people.

There are also markets selling handicrafts, handbags, jewellery... and handmade products such as ceramics and Mallorcan fabrics, leather goods or wicker.

If you like the sound of that, we invite you to discover the Muro market held every Sunday in the Plaza Comte d'Empùries. You should also visit the Sunday market in Pollença, considered one of the most important on the island, and the markets in Santa Maria (also on Sunday), Sineu (Wednesday) and Inca (Thursday).