Dining
Can Ribera Restaurant
by Can Amer, Muro
The impressive entrance hall to our boutique hotel leads to a genuine treasure: Can Ribera Restaurant by Can Amer. Discover an amazing place that will enchant you with its design and the wonderful cuisine made using the best fresh, local, organic ingredients.
Open to the general public, the traditional cuisine in our restaurant is the starting point for innovative new dishes based on Mallorcan traditions. We propose a menu that combines superior-quality ingredients with avant-garde culinary techniques to reinvent traditional Mallorcan recipes.
Lunch menu available from Monday to Saturday (the restaurant will be closed on Sundays and Mondays at noon)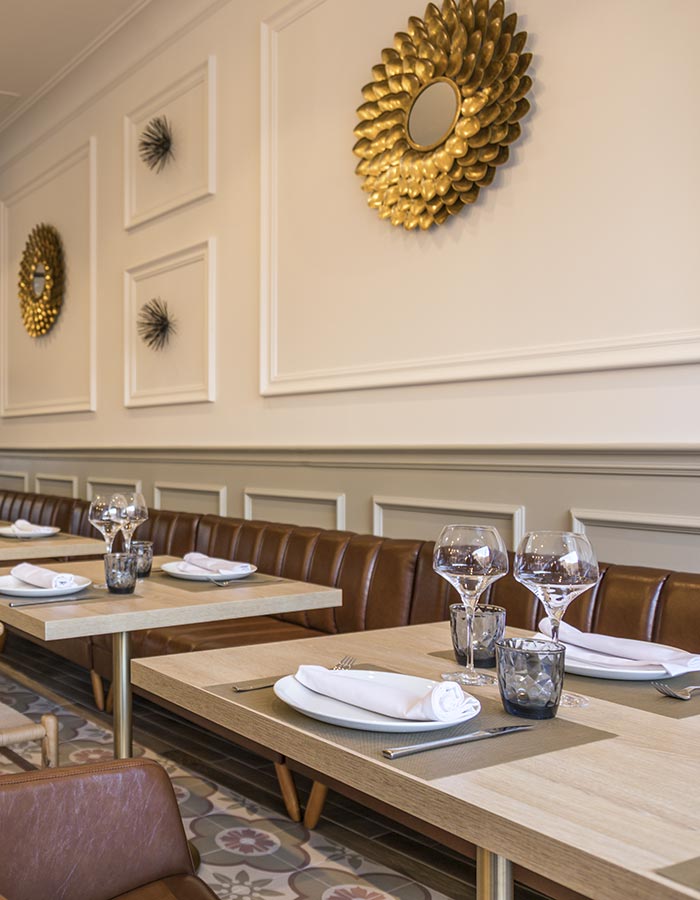 Can Ribera Restaurant by Can Amer is a dining experience that perfectly combines traditional Mallorcan cuisine with new ingredients and techniques from other international culinary traditions.
Taste some of the best Mallorcan dishes with ingredients from the sea and the land, as well as healthy dishes and vegetarian options, from typical local dishes such as tumbet or suckling pig to ceviche, tartars and organic salads.
Accompany your lunches and dinners with some of the finest local wines and don't forget to try our snacks, cheese platters and Mallorcan sausages. Savour all our dishes in our comfortable and bright dining room or on a lovely terrace, reminiscent of the old Mallorcan courtyard of the stately Can Ribera manor house.
Savour the finest haute cuisine with a Mediterranean soul.
Telephone reservations: +34 971 86 00 44
Breakfast
by Can Ribera
Try our fresh and nutritious continental breakfast, exclusive for our customers, with a wide range of home-made products and dishes. Flavours, contrasts and fresh local ingredients will make the beginning of your day a very special and unique moment.
Enjoy the finest cuisine from first thing in the morning and start your day with energy at Can Ribera by Zafiro.