Style, elegance and tradition
Boutique Hotel Can Ribera
by Zafiro
Can Ribera by Zafiro is located in the picturesque town of Muro, far from the hustle and bustle of the tourist areas and enveloped by an idyllic rural setting of unique natural beauty 14km from Playas de Muro.
Located in a majestic 19th-century townhouse, this peaceful hotel in Mallorca has been transformed with a new modern design while retaining all of its original features. The high ceilings, beams and large windows respect the traditional architecture so typical of old Mallorcan houses and lie harmoniously alongside elegant design and sophisticated decoration.
Our attentive staff will be delighted to make you feel completely at home, providing the friendliest service and an intimate hospitality experience. We invite you to enjoy a peaceful and unforgettable holiday in our designer hotel in an incomparable setting.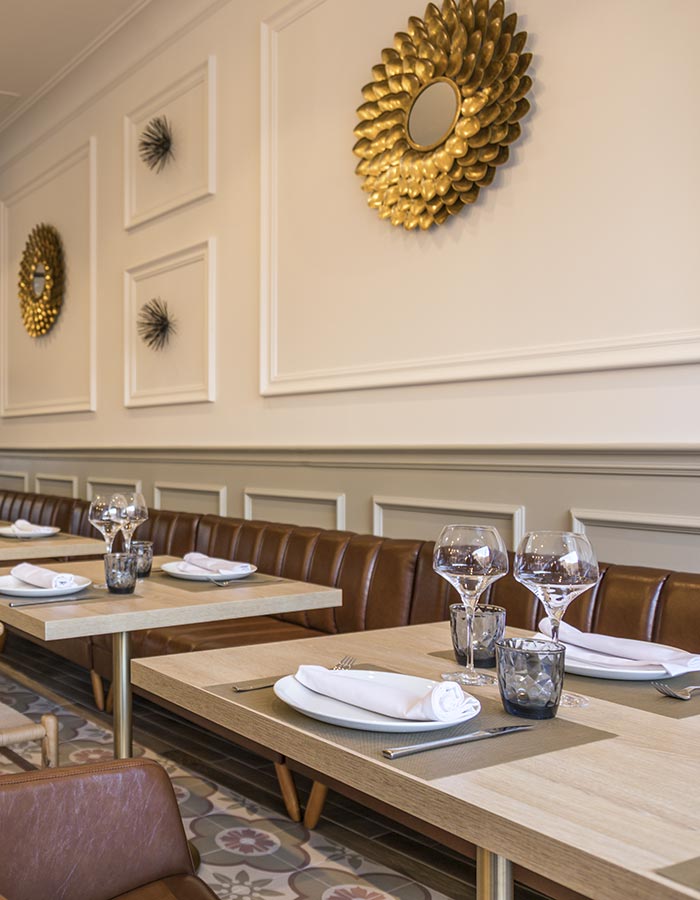 Can Ribera Restaurant
by Meel
Take a seat and discover fantastic cuisine combining the most authentic Mallorcan traditions with the finest ingredients and meticulous preparation. Located inside the hotel, the Can Ribera Restaurant by Meel offers a delicious dining experience to be enjoyed by both guests and the general public alike.
Our chef will surprise you with a selection of dishes with a Mediterranean soul made with local products and natural ingredients. We invite you to enjoy a unique occasion and the seamless symbiosis of innovation, flavour and tradition.
Allow us to take care of you
Amazing experiences at Can Ribera by Zafiro
Luxury holidays in Mallorca
Can Ribera by Zafiro offers you first-class personalised service and we want to make sure you sense that from the moment you arrive. We provide attentive and friendly service, always ready to help you discover all the secret corners of Mallorca and make your stay in our village hotel an unforgettable experience.

A dream location
Photo gallery
With a warm and welcoming ambience, Can Ribera by Zafiro surprises guests with all the charm of a small hotel in a unique rural environment.
Enjoy comfort and total peace in its 21 dream rooms, treat yourself to a glass of wine in an interior courtyard which still has the ancient water well seen in old Mallorcan houses, or listen to the birds singing while savouring a delicious breakfast, lunch or dinner at the Can Ribera Restaurant. We invite you to relax in the rooftop pool, a hidden-away space full of peace and silence, and enjoy a refreshing swim and the beautiful panoramic views of the town of Muro and the Serra de Tramuntana mountains with the Mediterranean Sea as a backdrop.
Discover Mallorca
Be local with Zafiro
An exceptional location makes it the perfect starting point for exploring the most authentic Mallorca, enjoying unforgettable experiences and discovering some of the most beautiful places on this amazing island.
Discover wonderful scenery, heavenly beaches, quiet rural hiking trails, nearby golf courses, cycling routes, wine tasting in nearby bodegas and the most select Mediterranean cuisine.